The best thing about a beach wedding is that it's an opportunity to bring out the fun, colorful, boho-chic side of your personality since beach weddings generally don't follow a strict formal dress code. You'll love the fact that you'll come back with some absolutely gorgeous pictures of yourself in a cute flowy dress with a stunning beach as your background. In short, you can say that going to a beach wedding is the time to be creative with your sense of style.
Dresses in fabrics like chiffon, satin, and rayon are always preferred for beach weddings since there's a high probability that you'll be walking and dancing on the sandy shore of the beach, barefooted. So, keeping things light and comfortable should be your focus. Pastel shades with floral or similar feminine prints are always a great idea for a beach wedding. But at the same time, make sure your attire is dressy enough for such an important occasion. And always remember that even if you've picked a fairly simple dress, you can accessorize your look in a way that you look radiant and uber stylish.
Here, we've picked some of the most iconic beach wedding guests looks for you that are available. Get inspired by these styles and make a rocking statement on that special day.
1. V Fashion Women's Rockabilly Vintage Halter Cocktail Dress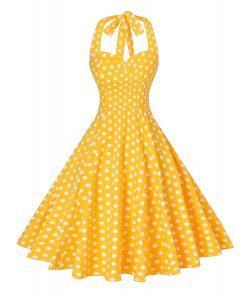 This kind of dress is the first thing that comes to our mind when someone asks "what do I wear to a casual beach wedding?" It looks so cute, fun and vibrantly playful, but also at the same time, it's stylish enough that you can wear it to a big event like somebody's wedding. Its edgy design is what makes this dress such a classic – sweetheart neckline attached to halter-top straps, high waisted A-line silhouette with a concealed zipper and an elastic back. This dress from V Fashion is available in 14 peppy colors, out of which we really love yellow, red and blue (the ones that have white polka dots on them).
V Fashion Women's Rockabilly 50s Vintage Polka Dots...
Features: Sweetheart neckline,polka dots/solid color,sleeveless,not see through...
Ajustable halter straps;Elastic back design - Make it easy to fit busty...
Slimming 1950s inspired classy sleeveless swing dress. Classic and iconic style...
2. Verabendi Off Shoulder Beach Maxi Dress with Pockets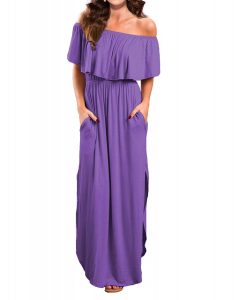 Off-shoulder dresses are all the rage right now! And they are particularly popular at beach weddings or any other kind of beach party. This mono-color off the shoulder by Verabendi is another one of our top recommendations for a casual beach wedding. It's simple and comfortable, but its off-shoulder design combined with a ruffled top, fitted waist and slits on both sides makes it a very good choice for the occasion. Wear chunky jewelry with this dress or boho-accessories with a fun hairdo to complete the look. It's available in 10 colors and our favorites include – ultraviolet, army green, burgundy, dark green, pink and rose.
VERABENDI Women's Off Shoulder Summer Casual Long...
Off the shoulder dress features: casual and higher waist line with ruffle,long...
Wear Style: over both shoulders, off both shoulders, or under one arm
Side split maxi dresses very flattering and sexy, especially when worn with a...
3. Lilbetter Beach Crochet Backless Bohemian Long Dress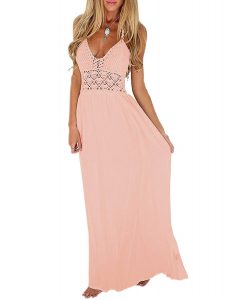 This one is for the true boho-girls out there. This pretty maxi dress by Lilbetter is completely backless with halter straps to hold the top in place. It accentuates your curves in a tasteful manner, making you look and feel like a diva. Its crocheted top makes for a premium look and its skirt part is knee-length lined so that it remains flowy but not see-through. Pair this dress with beaded or oxidized jewelry and a chic hairstyle (it'll especially look stunning with soft bouncy curls). The dress is available in 5 colors – white, khaki, light green, light pink and wine red. Go for the light pink or light green to look stunning!
LILBETTER Women's Beach Crochet Backless Bohemian...
Size: X-Small/US 2, Small/US 4/6, Medium/US 6/8, Large/US 10/12, X-Large/US 14....
Main material: Cotton top, Polyester lined. lightweight and flowy maxi dress.
Style: Maxi long dresses, sleeveless dresses, sling dresses, backless dresses,...
4. Sleeveless Casual Short Dress with Pockets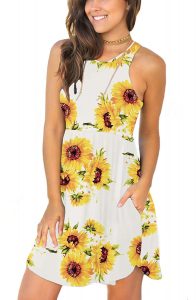 This dress is the perfect answer to the question, "what to wear to a casual beach wedding" if you have a lean frame. It's such an effortless, comfortable piece of clothing, yet it looks vivacious and graceful. The pockets further add to the dress's easy-going style and make you look comfy and relaxed. That's exactly the kind of look people go after while dressing up for a beach wedding. The dress is available in 27 charming colors and patterns. Our recommendations for you include – floral sunflower white, plain purple-grey, acid blue, floral light blue and floral mix blue. Full-sleeved variations of the dress are also available in this design.
You can buy the Sleeveless Casual Short Dress with Pockets here
Unbranded Women's Summer Casual T Shirt Dresses...
Made of 95%Rayon,5%Spandex,this random floral print versatile summer dress is...
This basic swing tunic dress is perfect for layering in the fall or winter with...
Size:X-Small/ US 2-4,Small/US 4-6,Medium/US 8-10,Large/US 12-14,X-Large/US...
5. Belle Poque Homecoming Retro Vintage Sleeveless A-Line Dress
If you are looking for a bit more dressier options than the ones we've listed above, explore this design by Belle Poque. It's the perfect vintage dress, with floral prints, a well-defined waist and an A-line flared skirt. It even comes with a belt. If you are not happy with this belt in black color, opt for a belt in a shade lighter or darker than the color of the print. It's available in 7 colors and it's surprising that all the shades are absolutely stunning and appropriate for a beach wedding party.