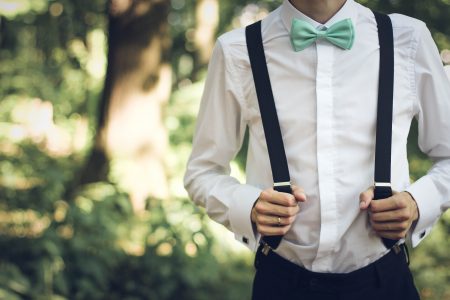 Destination weddings have got to be one of the best reasons to get dressed up, especially beach weddings since their vibe is always pretty chilled out and relaxed. Going to a beach wedding is not very different from going to a classy beach party. So, while dressing up for one, you can follow the same rules. Opt for subtle pastel colors – lighter shades of blue, green and pink, peach, lilac, lemon, grey, and khaki are your best bets. You can wear a casual linen shirt with a pair of well-fitted linen pants or you can wear a linen, cotton or polyester suit without a tie or a bow.
To make things easier for you, we've found 5 really good options for casual men's beach wedding attire that you can order online. Check these out and then decide for yourself, what kind of look you would like to go for.
1. Cloudstyle Men's Single-Breasted One Button Slim Fit Suit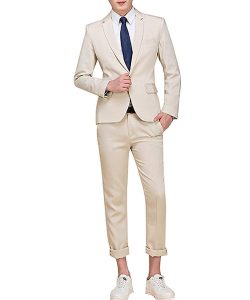 This suit by Cloudstyle exemplifies how beach wedding attire for male guests should look. Everything about this suit, be it its fit, design or colors in which it's available online, is perfect for a relaxed beach wedding event. The material used in this suit is a mix of cotton and polyester which means it's breathable and comfortable but also, sharp and edgy.
The suit is available in 10 colors, out of which, we'd recommend going for light blue, khaki, and pink for a beach wedding. As per its reviews, the suit usually runs a little smaller than your expectations. So, stick to the brand's size chart while ordering to make sure you get a great fit.
2. Ward St Men's Short Sleeve Cuban Guayabera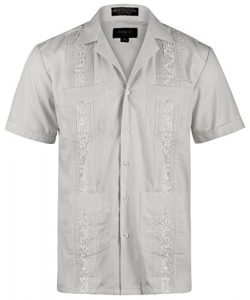 Are you planning to wear Guayabera (a.k.a the 'Mexican wedding shirt') to a beach wedding? Great choice! This tropical embroidered Guayabera by Ward St is a great option for a beach wedding since it's incredibly lightweight and breathable. This classic wedding shirt is everything you could ask for below $25.
It's 60% cotton and 40% polyester, which means it'll look great and you'll be thoroughly comfortable. This design is available in 22 colors, out of which we really liked 8 colors for beach weddings – khaki, light blue, light grey, turquoise, white, apple green, French blue and pink. Pair this shirt with well-fitted linen or cotton pants and you are good to go!
3. Tommy Hilfiger Men's Modern-Fit Performance Suit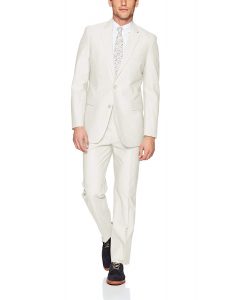 This suit may look formal at first, but don't let the photo deceive you. The outfit works equally well with an open neck blue shirt or you can drop it down a notch and ditch the blazer, as the pants look so good on their own.
Tommy Hilfiger is known for its stunning range of suits and jackets. You'll find accessories that go with this look effortlessly.
Among the 24 colors available, we believe the best-suited for beach weddings are white, blue plaid, light grey twill, tan, tan solid, blue chambray pattern, corona gray and medium blue twill.
4. Tommy Hilfiger Men's Modern-Fit Comfort Blazer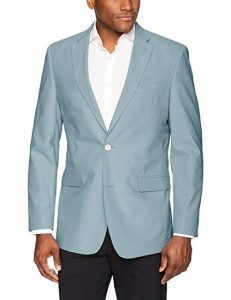 Probably one of the best-looking linen blazers available online! This 100% linen blazer is a wonderful option for a casual beach wedding. Whether you are one of the groomsmen or a guest, this jacket will let you exude confidence and class. The blazer It has a two-button closure and the insides are fully lined.
Because of its simplicity and grace, it's a great option for beach wedding attire for male guests. Complete this look with a crisp, edgy white or off-white shirt, khaki or off white or even white pants and subtle accessories including a wristwatch and semi-formal shoes.
Tommy Hilfiger Men's Modern Fit Stretch Comfort Blazer
High performance, stretch fabric expertly blended to maximize look, comfort,...
The modern fit is ideal for the guy looking to update his wardrobe without going...
Moderate lapel width allows you to style accordingly wth most neckties
5. Wintage Men's 100% Linen All-Season Natural Color Suit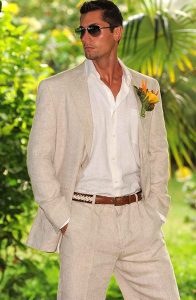 A wonderful 2-piece linen suit at such affordable prices! Linen suits usually cost a decent amount of money, even when they aren't 100% linen. But this suit by Wintage is available for less than $100 and it is pure linen, which is an absolute steal.
What's even more interesting about this suit is the fact that has undyed natural fabric and comes with satin lining.