Beach weddings are so so fun! When your friend, relative or colleague handed you that invitation to his/her dreamy beach wedding, you were so effing excited, right? But soon the excitement turned into a mild anxiety attack since now you have to decide what to wear to this classy event. And we can all agree that things are even trickier when you are a curvy girl.
But the good news is, just like everything else, there are some gorgeous options for plus size beach wedding guest dresses on the internet if you know where to look. Ordering a dress online is so much better than actually going to a store and trying out an endless number of dresses, one after the other. Doing that only makes you feel either confused or discouraged. Instead, go online and find extraordinary designs which are specifically made for plus-sized women. We've found the best plus-sized dresses available on Amazon have been adorned by so many happy customers before you. Thus, you can rely on the reviews and helpful tips and tricks these curvaceous beauties have left on the site, making things so much easier for you.
To help you even further, we have enlisted some of the best options you can find below. Your day keeps getting better and better, right? –
1. Grecerelle Summer Casual Loose Maxi Dress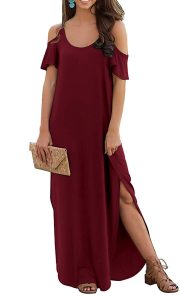 This dress by Grecerelle is one of our most loved beach wedding guest dresses for plus size gals. The material used in this one is primarily Rayon, mixed with 5% Spandex. This means it's super soft, stretchy and comfortable to wear to a beach wedding ceremony. The cold shoulder design grabs all the attention which de-emphasizes the focus from the body. That's the most popular trick we plus-sized beauties employ while shopping for our clothes – shifting the focus to areas we'd like to accentuate and hiding the ones that we think are problematic. You can wear this dress as it is or you can add a belt or a jacket to jazz things up a notch. Either way, the dress will shine.
GRECERELLE Women's Casual Loose Pocket Long Dress Short...
Material: 95% Rayon , 5% Spandex.Stretchy,soft and comfy.
Short sleeve,V neck and Backless, Long dress,Pocket,Maxi dress, loose fit.
Simple casual style, fit for everyday dressing, wear at home, travel, you can...
2. Korsis Short Sleeve Swing Dress with Pockets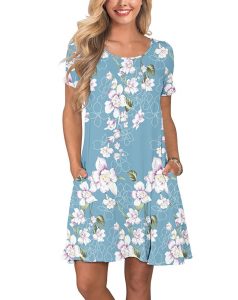 One of the most sought-after styles when it comes to beach wedding guest dresses is a simple, loose-fitted, T-shirt dress with pockets. These kinds of dresses look flattering on women with an apple-shaped body. So, if you are heavier on your waist with comparatively slimmer legs, go for this style. This particular dress by Korsis is available in 16 variants including printed dresses and non-printed, simple dresses. The size options are very impressive. You can order a small, medium, large, extra-large to XX-Large and XXX-Large as well.
Sale
KORSIS Women's Summer Casual T Shirt Dresses Swing...
This simple random floral print go to dress is 95% Rayon and 5% Spandex. Price...
The casual dress is above the knees and long enough that you wouldn't need to...
Wear this dress to a casual evening out for drinks with friends, doing your...
3. Kiyonna Plus Size Whimsy Wrap Dress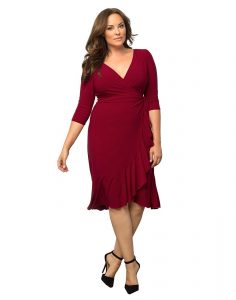 If you are looking for a more formal look, this wrap dress by Kiyonna could be the perfect match for you. Because of its Polyester and Spandex material, the dress fits amazingly well on your curves, making you look feminine and elegant. The ruffled edges, snug sleeves, and the deep V neck further adds to its charm. Pair this dress with playful accessories such as an oversized necklace or chunky earrings and make this look even more stunning. Kiyonna Women's Plus Size Whimsy Wrap Dress
2X measures approximately 44 � from high point of shoulders to hem
Size 2x waist measures 40? total around, relaxed.
Keep the impression of this dress going with playful accessories like an...
4. Pintage Boho Wrap Split Maxi Dress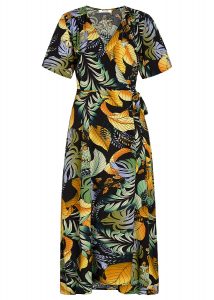 Beach weddings are synonymous to summery, flowy dresses in pretty colors and prints. And this dress by Pintage just defines that. It's a wrap-around with a belt, so you don't have to worry too much about alterations. Also, the fabric is super lightweight and breathable, which is perfect for a breezy beach wedding. There are 9 shades available in this and the ones, which are the most beach-wedding appropriate include – mint, light green, black palm leaves, and pastel red. It is available in a wide variety of sizes. Besides small, medium, large and extra-large, it's also available in 2X Plus which is an equivalent to US 18W-20W.
Pintage Women's Boho Wrap Dress Split Maxi Dress S Gray...
Made with viscose fabric, the bohemian wrap dress will easily shrink about 3" in...
Long dress with v neck design and flared sleeves is very feminine and flattering
Functional tie at waist and a little high-low hem with split at front looks...
5. Daxvens Summer Boho Floral Maxi Dress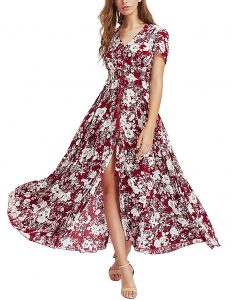 Made from a cotton-like fabric called Rayon, this dress by Daxvens is a good option for a casual beach wedding party or a similar event. The floral design gives you that Hawaiin vibe, while its A-line, button-up closer will make you look slender and tall. It's a great beach wedding guest dress plus-size option. Pair it with the right kind of accessories and a boho-chic hairstyle and this dress could become such a head-turner. It's available in 5 colors – apricot, black, burgundy, green and navy. Our top recommendations for a beach wedding are – burgundy and green.
Daxvens Women's Summer Boho Floral Maxi Dresses Button...
S=US 2-4,M=4-6,L=8-10,XL=12-14,XXL=14-16.Super soft cotton-like rayon fabric,...
Short sleeve, button up closure, open front, sexy v-neck, elastic waist, a-line...
Stretchy waist casual bohemian dress for woman, makes any figure more...