Who doesn't love a beach wedding? Beach weddings are the perfect balance between class and fun. They are an opportunity to let your hair down (or keep it up if you prefer) and enjoy the company of loved ones with an incredible backdrop. We've put together a list of the best beach wedding hairstyles for your big day.
With the sunshine, salty air and the light breeze you'll be feeling as if you're on holiday yourself. However, with these elements of the beach come two important factors to consider when choosing which hairstyle is best for a beach wedding: the breeze and the humidity.
Being outside for the ceremony will require a hairstyle that is functional as well as beautiful. You don't want to have to be fixing your hair regularly whilst trying to enjoy the moment. When choosing your hairstyle, consider one that will compliment your beach wedding dress as well as stay effortlessly low maintenance throughout the day and night.
Below you'll find our top 3 beach wedding hair choices that are chic, fun and low maintenance, whether you are the bride, in the bridal party or a guest, you'll find something to suit your hair and your personal style.
1. Classic beach waves
Is there ever a more appropriate time for beach waves than at the beach? Many brides opt for loose, soft beach waves for their beach weddings for the Boho-chic look and feel. Beach waves look incredible in photos but the sea breeze can be a problem for this hairstyle as the waves will often not stay in place and may become frizzy with the humidity depending where you are.
Beach waves are by no means a bad option, they just require you to consider the breeze when choosing how to keep the hairstyle looking fabulous the whole day. Consider pinning back parts of your waves with a beautiful twist, add some flowers to the pins or a flower crown to accentuate that boho feel.
Speak to your wedding hairstylist about products that you can use to ensure the soft waves keep their shape throughout the day with the breeze and into the night with all your dance moves such as good quality hairspray that holds without making your hair hard as a rock or a mousse that stays put whilst adding a gorgeous sheen.
2. A gorgeous bun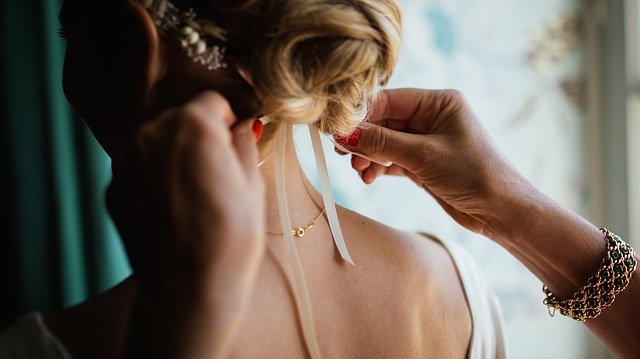 Whether you like the neat chic buns or a messy low bun, this wedding hairstyle is a great way to compliment your outfit whilst ensuring you have a functional, low maintenance up-do that will look great in photos without you having to fix it throughout the event.
The classic bun is timeless and will be a choice that you will most definitely not regret. The added benefit of a low bun is that having your hair slightly off your face and neck will accentuate your cheekbones and jaw by showing off the contours of your face.
With an up-do, you also have the option to add some fancy features such as pins, flowers, braids and twists, play around with your hair as a beach wedding is the perfect place to have some fun with your style.
3. Braids and Twists
As mentioned above, adding a braid or twist to your up-do will make your hairstyle that much more fun and intriguing, however a braid or a twist can be the feature of your hairstyle on their own!
A trending beach wedding hairstyle is the fish tail braid that is next level boho chic, effortlessly on your shoulder or on your back, it will stay in place throughout the day. Windy day? No dramas. The best part is with a braid is that the messier your hair, the better, as it adds to your style! There are countless types of braids that you can add to your wedding hairstyle, consider that if you will be doing it yourself, practice is key, so get practising early!
A French braid is also a popular option for a beach wedding hairstyle. Classic, elegant and beautiful. This works best with thick hair, however wedding hairstylists have tricks up their sleeve to make even the thinnest of hair look gorgeous and full bodied with the help of products and teasing.
Conclusion
If you play to do your own hair for the beach wedding, make sure you allow plenty of time to practice your hairstyle and test it out by wearing it throughout the day to see how long it lasts, try out different products to see what works for your hair and more than anything, just have fun with it.
If you're thinking to hire a wedding hairstylist, have a practice run to see if the style is what you're after and talk about ways that you can ensure your hairstyle and the effort you put into your wedding dress stays gorgeous the whole event. Consider using a mobile wedding hairstylist as well, since a mobile hairstylist will travel to your home or venue, allowing you to focus on your big day without the distraction of needing to travel to the salon.
Your hairstyle should complement your beach wedding attire, play around and see what suits your dress and accessories. Remember to consider a hairstyle that is beautiful as well as functional, one that you can trust will hold its own whilst you have fun.