When your daughter's wedding day is around the corner, you'll go through a million different emotions. For many mothers, it was a dream in their eyes since as long as they could remember to see their little angel getting married to a prince charming one day. And now, when this dream is about to turn into a reality, it's natural to feel overwhelmed with excitement and with tickling astonishment.
Being the mother of the bride also means you have a million different things to do before the big day arrives. There are often several responsibilities for the mother of the bride – making sure the guests are well taken care of, yelling on the caterers, keeping in touch with the folks of her soon to be son-in-law. You'll be wanting to help your daughter to look incredible on her wedding day and at the same time, you're probably wanting to look amazing yourself! No wonder, being a mother is the toughest job on the planet!
If your daughter is having a beach wedding, it's sure to be exciting, but you might be wondering what to wear? After all, not just any dress will do. Let's make her life a little easier. We've done the hard work for you and found some of the best mother of the bride dresses for a beach wedding that are available online. Pick a dress that you like, select the color and size, and you're done!! Just like that, in less than 15-20 minutes, you'll be able to find the perfect dress to wear on your beautiful daughter's wedding day. That's at least one big task off your chest!
1. Tutu Vivi V-Neck Tea Length Mother of the Bride Dress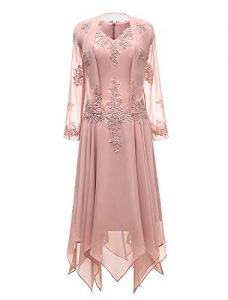 This gorgeous dress by Tutu Vivi is so playful and fun and since the wedding is a beach affair, it is one of our top recommendations. It's lightweight, comfortable and easy to pull off, but at the same time, the design is incredibly stunning. If you have any concerns about the size, you can send the vendor your detailed measurements to get a customized dress, absolutely ideal for your size. It comes with a lining underneath and the sheer sleeved jacket is the cherry on top. What's super awesome is that it's available in 34 colors and some of them are specifically apt for a beach wedding including – sage green, sky blue, coral, champagne, yellow and blush.
No products found.
2. Dressup Girls' Mother of the Bride Dress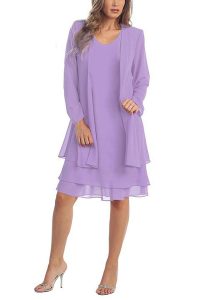 If you are looking for plus-sized mother of the bride dresses for beach wedding ceremonies and simplicity is your 'go-to style' while picking clothes, this one is just perfect for you! Actually, a plain and simple dress, that fits well and compliments your makeup and hairdo, this dress usually becomes an instant hit on almost every occasion. Pair it right with the right kind of accessories, footwear and makeup and this dress will simply shine. It's classy, unhassled and super comfortable. It is available in 9 different colors and our favorites include – peach pink, purple and green.
3. APXPF Women's Tea Length Dress with Jacket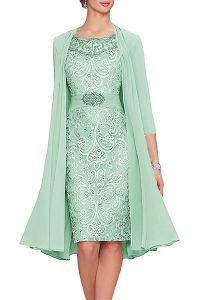 If your daughter's beach wedding is set to be more of a formal occasion, then this stunning dress is a great choice. It exudes elegance and at the same time, comfort. Its graceful design has been created using beads, sequins, and intricate lacework, which will ensure you're looking glamorous. It's available in more than 20 colors. From champagne, burgundy, coral and royal blue to colors that are a little more upbeat like aqua, lilac, and orange, so many incredible options are available in various different sizes. 4. Love My Seamless Long Evening Lace Dress with Jacket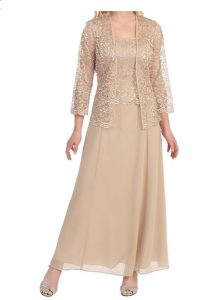 Again, a simple dress that's breathable, lightweight and comes with a beautiful lace embroidered jacket, ideal to wear on to a beach wedding. This is one another of our most loved mother of the bride dresses for beach wedding events. This dress by Love My Seamless is available in 9 color options, including dusty rose, champagne, silver and navy blue. Almost all the shades are available in small, medium, large, XL and 2XL and some are also available in 3XL plus and beyond. It's very well made and the materials used are of premium quality.