A beach wedding is a perfect occasion for a tan suit. Just like white linen suits, tan or beige suits are a perfect color combo with the sand and sea in the background.
Tan suits and tuxedos are on trend right now since it's that one color that looks good on almost anyone. Being a neutral color, it has the quality of being exceptionally stylish, but in a very subtle way. It never looks over the top or too dramatic and if the suit you've picked complements your frame, you'll be looking boss for the big day.
If you are searching for men's tan suits for beach weddings, check out our top 4 recommendations below.
1. Chama Men's Solid Two-Piece Classic Tan Suit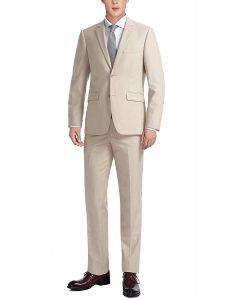 A beautiful two-piece suit, tailored by talented and experienced craftsmen! This exquisite design by Chama is the perfect beach wedding menswear for the groom or his groomsmen. This shade of tan would look amazing on the occasion of a beach wedding since it's light and easy on the eyes, but also, at the same time, vibrant and suave. The suit comes with an elegant poly-viscose blazer and matching classic fit pants. All you have to do is to get a nice white or off-white shirt to complete this look and perhaps a tie or bow tie.
The fabric quality is really wonderful. It's soft, smooth and premium to touch. While ordering, it is highly recommended to follow the brand's sizing chart. They also have detailed instructions regarding the measurements, to make sure you won't have to spend any extra money to get your suit altered after its arrival. If you are looking for a classy suit in the category of affordable men's tan suits for a beach wedding, this could be the one for you.
CHAMA Men's Solid Two Piece Two Button Classic Fit...
Jackets: Classic Fit, Two Buttons, Single Breasted, Notch Lapel, Fully Lined,...
Pants: Angled Slip Pocket, 2 Back Pockets, Lined to the Knee, Zip Fly, No...
Occasion: Suitable for Wedding, Date, Party, Graduation, Prom, Business, Work...
2. Ferrecci Paul Lorenzo Men's Slim Tan Suit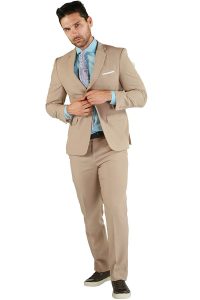 Such a stunning design at such reasonable prices! This tan suit by Ferrecci is made entirely from Luxury fabric to give you added comfort and a strong sense of style. Its sleek slim-fit design is ideal for a relaxed beach wedding or an evening party. Pair the blazer and the pants with a well-fitted shirt and perhaps you can also put on a tie to complete this amazing look.
We're very happy with the suit in this color, but it is also available in 9 other great colors. This suit is a great beach wedding menswear option if you are looking for something simple but graceful at an affordable price.
3. YFFUSHI Men's Slim-Fit Tan Wedding Suit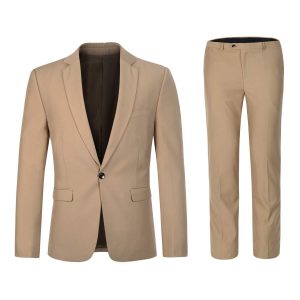 If you want to channel your inner style icon during the ceremony, go for this stylish suit by YFFUSHI. It is uber stylish and a sure head turner! The urban, sleek design of its blazer combined with matching slim fit pants makes this suit is one of the best-looking suits you can find in the category of beach wedding menswear available online. This suit is especially a great option for the groom to be.
The design is actually available in 6 shades, out of which tan or (khaki) is the most charismatic. But we also quite liked wine red, navy, and royal blue. Accessorize this suit with a solid color tie and a pair of elegantly stylish shoes to complete this look.
YFFUSHI Mens 2 Piece Suits One Button Formal Slim Fit...
Great Material: The suit is made of 70% Polyester and 30% Viscose. This fabric...
Slim Fit: This suit with full shoulder design and slim cut with 3D draping. It...
Multi Occasion:This 2 piece suit set provides an easy choice for many occasions,...
4. P&L Two-Piece Classic Fit Single Breasted Blazer and Trousers Suit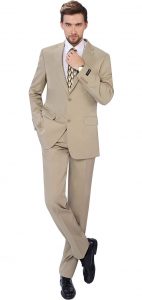 Another very good option if you are looking for a simple two-piece suit in a shade like tan, grey or beige. In this particular design, we'd suggest going for beige color as well as tan. They're both subtle, elegant and beach wedding appropriate. The suit comes with a classic fit, single-breasted blazer with Notch Lapel, two front flap pockets, and dual side vents. The blazer looks really graceful because of its refined design and high-quality fabric, which is breathable, comfortable and also easy to wash.
The quality of tailoring this suit offers you is quite exemplary. You can order the suit as per the brand's sizing chart and since the pants will be unhemmed, you can get them altered according to your height. But even after paying for the alterations, you'll realize that you got a suit worth at least $300 for less than $100. So, without a doubt, this suit by P&L is one of the best men's tan suits for a beach wedding that you'll find online in less than $100.
P&L Men's Suits 2-Piece Classic Fit Single Breasted 2...
Superior material: Fine Tropical Weight 100% polyester, Year Round Use. It is...
Sharp Blazer: Classic Fit Single Breasted, 2-Buttons with Notch Lapel, Dual Side...
Pants Feature: Slanted Side Pockets; Unfinished hem pants,tailored to proper...