Dressing up in a suit while going to a beach sounds weird, except if the occasion is a beach wedding. It could be your own wedding or maybe you are one of the groomsmen or even a guest. Whatever the case is, a stylish, suave suit would be perfect for the occasion. But when it comes to suiting up for beach weddings, there are a few guidelines that you should follow, simply for your own comfort and ease.
The two things to keep in mind while shopping for beach wedding attire for men – pick lighter shades (pastels, if possible) and go for breathable fabrics. Pick colors like light blue, beige, khaki, or lighter shades of grey and brown. Grey, in particular, is a very popular choice. Grey suits look exquisite and modern and if the design and cut complement your body structure and skin tone, you'll definitely look stylish. Below, we've found 5 exceptional grey suits for beach weddings that you can easily order online for your upcoming event
1. Reaction Kenneth Cole Men's Slim Fit Grey Suit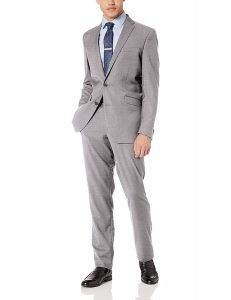 Reaction Kenneth Cole is one of the most trusted brands when it comes to wedding menswear, especially suits. Their suits are effortlessly stylish and they always go the extra mile to ensure your suit fits as close to your liking as possible.
This suit, in particular, is a solid option for your groomsmen. The suit is exceptionally sharp and elegant, it's fully lined, 2-button jacket comes with two side vents and you get matching pants as well. The fabrics used here are – 75% polyester, 23% rayon and 2% spandex. This kind of mix ensures a snug, comfortable fit.
2. Ween Charm One Button Slim Fit Grey Suit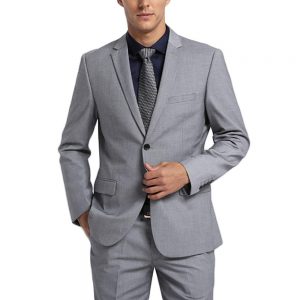 This suit by Ween Charm is breezy, fluently stylish and super comfortable. For a beach wedding or the reception, the groom should definitely wear something like this to make an amazing style statement. This suit is perfect if you have an athletic, slender body.
Besides light grey, the suit is also available in 9 different colors. If you are looking for an alternative of grey in this design, consider picking blue, navy blue, white or fuchsia. For the price you are paying, this suit is a great option for beach wedding attire for male guests.
WEEN CHARM Men's Suits One Button Slim Fit 2-Piece Suit...
WEEN CHARM Men's Suit One Button Slim Fit 2 Piece Tuxedo Suit for Men ,Which...
Suit Blazer Jacket:Single Breasted One button Closure,Elegant Solid Color Shawl...
Dress Pants: Premium Quality Fabric,Flat Front Design Suit Pants with...
3. Chama Men's Solid Two-Piece Classic Fit Grey Suit
Suits by Chama are known for their striking fit and style. This particular design exudes charisma and is a great beach wedding suit for a groom. Fully lined, single-breasted, 2 button jacket combined with classy pants and a sleek modern fit makes for a really sophisticated and sharp look.
The tailoring of the suit is spot on and the jackets are mostly hand-tailored which is fairly rare these days, and a sign of premium quality.
CHAMA Men's Solid Two Piece Two Button Classic Fit...
Jackets: Classic Fit, Two Buttons, Single Breasted, Notch Lapel, Fully Lined,...
Pants: Angled Slip Pocket, 2 Back Pockets, Lined to the Knee, Zip Fly, No...
Occasion: Suitable for Wedding, Date, Party, Graduation, Prom, Business, Work...
4. P&L Men's 2-Piece Classic Fit 2 Button Suit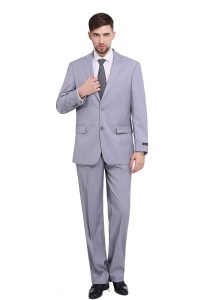 Another great option is the P&L Classic. The material used in this suit is top-notch and makes for a great suit if you're a guest. The 2 button jacket comes with a classic Notch Lapel design and the pants are pleated with unfinished hems.
Its simple yet sophisticated design and unparalleled craftsmanship can beat any high-end silhouette available in the market. With years of experience behind them, P&L knows how to deliver quality at reasonable prices.
P&L Men's Suits 2-Piece Classic Fit 2 Button Office...
Material: 65% Polyester, 35% Viscose, Wool Touch Feel, feels breathable yet Anti...
Style: Cut in a classic fit 2-piece Suit, blends timeless design with quality to...
Blazer: The two- button single-breasted jacket features Breathable lining, Notch...
5. Original Penguin Men's Skinny Fit Grey Plaid 2 Piece Nested Suit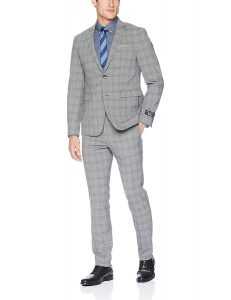 This one of its kind, 2-piece, skinny fitted, nested suit by Original Penguin is an excellent choice for a laid back, cozy, easy-going beach wedding ceremony or an after-party. This grey suit for a beach wedding is such an urban and fun take on the classic fit suit.
Pair this one with a light blue or grey shirt, a fun tie and a few beach wedding appropriate accessories to complete this look. You can even add a twist to the whole thing by being bare feet on the sand with this suit on.