As a guy, dressing up for beach weddings can be a little tricky. The wedding is on a beach, so you have to wear something comfortable, but since it's a wedding and not just a beach picnic, you still need to look sharp. While some beach weddings are pretty casual, we're here to help if you want to make yours formal, or if you're attending one that is.
The first rule of formal beach wedding menswear is accessories, not layers. While it's fairly common for the groom to be dressed in a three-piece suit for a normal wedding, beach weddings tend to be too warm for this to be practical. The answer is to demonstrate sophistication and style through your accessories instead. We're talking silk ties, premium leather belts, pocket handkerchiefs, gold watches, and designer sunglasses.
When it comes to the outfit itself, we need to take the quality up a notch, so to help you out, we've put together 4 really classy formal men's beach wedding attire solutions for you.
1. AK Beauty Men's 2 Piece Wedding Groom Suit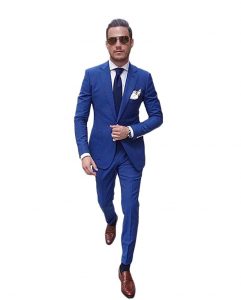 This particular suit by AK Beauty is perfect for a formal beach wedding look. Sleek looking notch lapel collar, graceful design and high-quality, premium material – that's how we'll define this debonair suit from this popular brand. The fabric used in this suit is not just comfortable and breathable, but also eco-friendly.
There are 4 colors available in this design – blue, burgundy, royal blue and khaki (tan). And there are more than 8 sizes available. Pair the suit with some subtle accessories and a sharp haircut and watch the heads turn as you arrive.
2. Botong Summer Beach Wedding Suit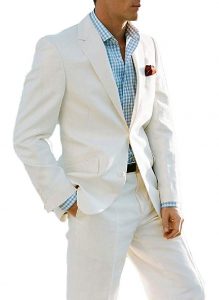 The Botong Beach wedding suit is one of our favorites and just screams style and sophistication. This breezy suit is available in 8 colors (all of them pastels) and each one of them has its own charm. The off-white is perfect for a simple yet suave look or you can opt for the pink one if you are more of a fun-loving guy who would love to show his flamboyant side during the wedding.
The fabric gives you a cozy and snug fit, all the while making you feel comfortable and at ease. When you order this online, it comes with a blazer, pants and a tie as well. For a beach wedding, we recommend ditching the tie though.
Botong Men's Wedding 2 Pieces Suits Groom Tuxedos 2...
Suit Blazer Jacket:Single Breasted Two buttons Closure,Slim Fit Peak...
Suit Pants: High Quality Fabric,Slim Fit Flat Front Design Dress Pants.
Color: There might be a slight color difference due to the lights and screen,...
3. Salvatore Exte Mens Suit Vested Three Piece Suit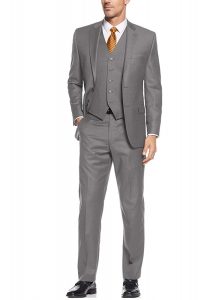 Ok, we said three-piece suits weren't common at beach weddings, but for some couples, it's just not a wedding if the groom isn't in a three-piece. If that's you, The Salvatore Exte Suit is the best option for two reasons. It's one of the lightest weight three-piece suits available, so the extra layer will still be comfortable, and the lining is made from viscose, which is naturally breathable.
The Exte Suit is available in 15 colors and we are actually in love with its grey variant. It's still very suitable for a beach wedding and this color somehow cancels out its 'strictly formal vibe' almost entirely. The stitching is of very high quality and so is the fabric. It's a little expensive as compared to the other options, but most people wouldn't mind paying a little extra for that extra comfort and premium feel.
Salvatore Exte Men's Vested Three Piece Suit Blazer...
Vested Modern Fit or Classic Fit Suit, 2 Button Single Breasted Jacket, Flat...
Modern Fit Vested Suit: Ticket Pocket, 3 Flap Pockets, 3-Pieace Suit, Notch...
Classic Fit Vested Suit: 2 Flap Pockets, 3-Pieace Suit, Notch Lapel, Dual Side...
4. Single Breasted One Button Two-Piece Suit by Cloudstyle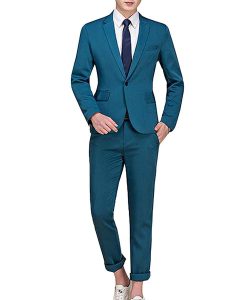 Our last recommendation is a bit of a wildcard. Whether you are the groom yourself or maybe one of the groomsmen, this single-breasted, two-piece suit by Cloudstyle could be the perfect beach wedding suit you have been looking for. The fit is snug, but comfortable enough and the fabric is cotton-polyester, which means you'll be able to run around and dance as much as you want, without worrying about being all sweaty and hot.
It comes with matching slim-fit pants. So, you just have to pair the blazer and the pants with a nice shirt in a color like white, off-white or a lighter shade of pink (or whichever color you have decided to go for) and that's it, you are good to go! Keep the blazer buttoned up or keep it open, both ways, the suit looks incredible. It's the kind of style that goes effortlessly well for a beach wedding. Maybe you can wear this suit for a cocktail party or a similar event and a more formal suit during the time of the ceremony.